Choloy, France
1958 – 1 (F) Wing – Assorted Sources
---
Details:
14 March 1958 - F/O FAS Grant
Comments:
F/O FAS Grant was a pilot with 445 Squadron at 1 (F) Wing, Marville France. He died in a CF-100 (#18368) flying accident.
---
Extracts from 61 AC&W Squadron Historical Narrative:
Date and Type of Aircraft: 14 March 1958 - CF-100
Category: Search & Rescue
Position: FE2030
Nature of Emergency: Exploded and Crashed
Action Taken: Checkerboard 46 reported to Yellowjack that a CF-100 had crashed 10 miles east of Marville. Checkerboard 46 squawked emergency and orbited until Yellowjack pinpointed the crash scene. Yellowjack requested H19 from Passport who scrambled Rescue 65 from Etain.
---
Extracts from 1 Wing Historical Narrative:
14 March 1958
130922 F/O FA Grant, Air/P and 41790 F/O RA Ashmore Air/Obs, both of 445 Sqn, were killed in an aircraft accident. Funeral services were held in the Protestant Chapel on 16 March 1958.
14 March 1958
At 1030Z RCAF 18368 CF-100 crashed approximately four miles east of the PMQ area, near the town of Beuvilles. Etain Air Base dispatched a helicopter and Beaver aircraft to the scene. They reported no survivors. The navigator's body was found near the vicinity of Revemont. All concerned were advised and the ambulance was dispatched to recover bodies.
---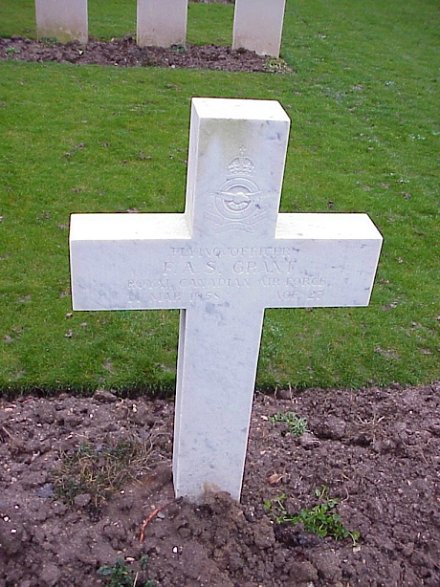 Grave marker photos courtesy of Malcolm Cromarty - February 2001

---