Japanese Submarines
on the West Coast of Canada
---
The incident with a Japanese submarine at Langara Point occurred in August 1943. It must be assumed that service personnel were well aware of the incident which occurred at the Estevan Point lighthouse on 20 June 1942.
---
The Attack on Estevan Point
The quiet solace of Estevan Point Lighthouse was shattered on the evening of June 20, 1942 when a Japanese submarine surfaced in the darkness two miles off Estevan point.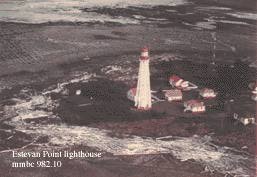 Estevan Point lighthouse.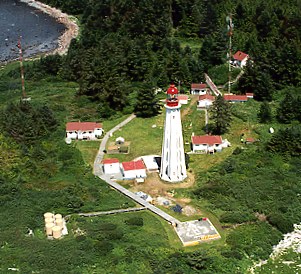 Estevan Point lighthouse.

Estevan Point lighthouse.
Built in 1909, Estevan Point is the only light station to be attacked by enemy gunfire. The realities of war dawned on North America on 20 June 1942, when chief gunner Hashiro Hayashi, on Japanese submarine I26 lying two miles off the coast, took dead aim on British Columbia's Estevan Point lighthouse and wireless station. Between 25 and 30 rounds of 5.5 inch shells were fired, but the Japanese gunners had remarkably poor aim, missing the station and the nearby settlement of Hesquiat. Estevan Point went down in history as the first place where enemy shells had struck Canadian soil since 1812.
Although no casualties were reported, there were some serious repercussions for mariners. The lights of the outer coast stations were turned off to prevent their use by submarines, virtually paralyzing shipping that remained on the coast during the war years. Stations such as Sheringham and Pachena Point were painted in camouflage colour schemes, and keepers were given rifles to repel an invading enemy, should the need occur.
Accounts published after the war left no doubt that the shellfire came from a submarine's deck gun and Commander Yokota of the Japanese submarine I-26 freely admitted to the attack.


Japanese submarine I-26.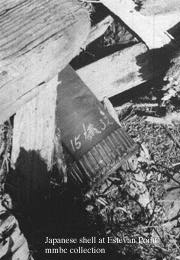 Shell Fragment - A fragment of an unexploded shell found on 3 July, 1973 at Estevan Point, BC. It was destroyed by the explosive demolition team from CFB Comox. A fragment of a Japanese shell, found off of Estevan Point in 1973, is on display in the Navy gallery at the Maritime Museum of British Columbia.
---
This page is located at
http://www.pinetreeline.org/rda/detail/rds99-34.html
Updated: January 19, 2002
---