Grostenquin France
Natzweiller-Struthof - Assorted Sources
---
Concentration Camp
Natzweiller-Struthof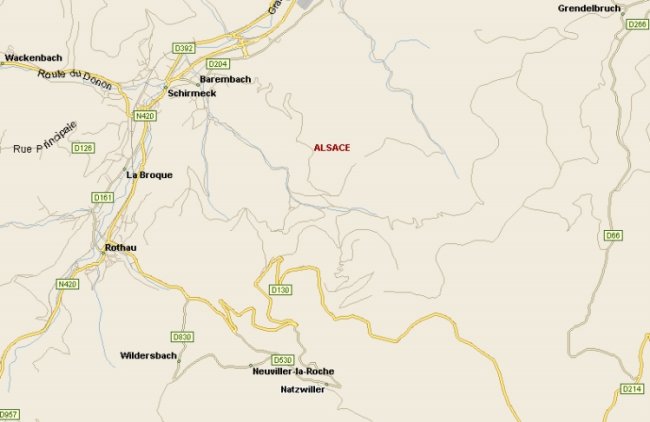 This map shows the locations of Schirmeck, Rothau and Natzweiller.
---
The camp at Struthof, officially called "Konzentration lager Natzwiller" is situated in Alsace and has been classified as a "Historical Monument". It is located southwest of Strasbourg France, some 5 miles from the Rothau station, on a summit of the Vosges, 2,500 feet high with an often cold and misty climate. When the weather is bright, one can see the Donan mountain.

The camp was inaugurated in May 1941, when 300 German prisoners were brought there. They lived in temporary blocks situated near the Struthof Hotel, about half a mile from the present location of the camp. Those prisoners carried on their bac from the farm all the materials necessary for the first blocks, made all the earthwork and the construction. As soon as blocks number 1, 2 and 3 were finished, the number of prisoners went up to 800 (Germans).

A total of 14 additional blocks were constructed between 1941 and 1944. These were used for a number of functions such as, to house the inmates, an infirmary, and to conduct various experiments. On the whole, 7,000 to 8,000 prisoners were living in the camp.

Until the crematorium was finished in October 1943, the dead persons were incinerated in a mobile crematorium placed near the farm. One month later, the showers were put up in the same block. The chamber used for the gas experiments was placed outside the camp, near the farm in a building near the hotel. The date when it began working is impossible to tell, but it is known that during the summer of 1943, it was used regularly. It was there that during the summer of 1943 particularly, some Jews, men and women, coming from Auschwitz, were "treated" with gas before they were killed.

The camp was evacuated by the SS in September 1944 as Allied troops approached.
---
Click on the description text to view the photograph.
---
---
This page is located at
http://www.grostenquin.org/misc/gtmisc17.html
Updated: August 5, 2004
---