1 Air Division Miscellaneous
Special Service Medal
---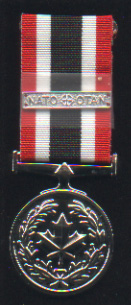 Special Service Medal

---
Did you serve with the RCAF in France?
If the answer is "yes" - then chances are that you qualify for the "Special Service Medal".
The medal consists of a ribbon, centre stripe black, bordered by white bordered by red. The bar across the ribbon has NATO on it in English and French. The medal itself is chrome. One side is the maple leaf surrounded by a wreath. The other side is a crown with EIIR in the centre and the words "Special Service" around the border.
Official information can be obtained from the following:
DHH/DHP 4-3-5 (SSM)
Edifice #347 Bldg. Uplands Site
National Defence Headquarters
101 Promenade Colonel By Drive
Ottawa, ON, K1A 0K2
Canada
Official Detail
---
We have presented detail pertaining to the "Special Service Medal" as a courtesy to those who served in France between 1952 and 1967. In many cases, ex RCAF personnel simply are not aware of this medal. It is with great pride that we offer the following photos of those who have applied and have received this medal, as a result of learning about it on our web site.
We would more than pleased to add your photo to this section - if only to prove that the system does work as indicated.
---
Click on the description text to view the photograph of some of the
people who have obtained their Special Service Medal via our web site.
---
Photographic Credits
All photos are used with permission.
---
---
---
Updated: October 9, 2004
---