RAF Radar Approach Controllers Course
---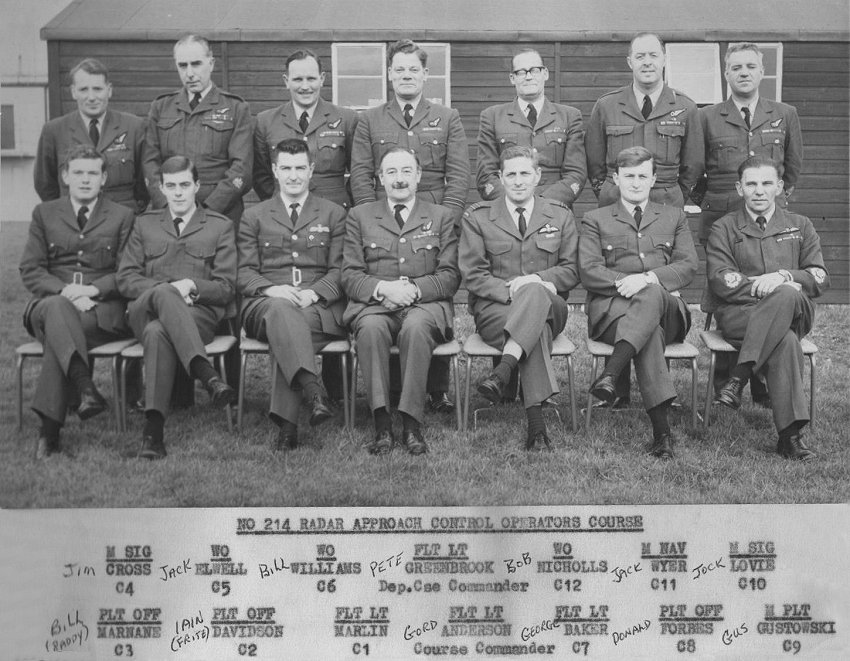 Courtesy of Earl Marlin
---
Back row (L-R) - Cross, Elwell, Williams, Greenbrook, Nicholls, Wyer, Lovie.
Front row (L-R) - Marnane, Davidson, Earl Marlin (RCAF), Anderson, George Baker (RCAF), Forbes, Gustowski.
---
Comments by Earl Marlin
The RAF course was basically a GCA course held at RAF Station Shawbury. Our particular course was from January to April 1967 and I believe this was the third or fourth course with Canadians on it. The purpose of the course was to train Canadian Controllers in the high density European Airspace for the Ratcons being set up at the German wings. I think there were a total of 12 Canadian officers who went through the course. I believe Pat Barnabe and Bruce Wellman also took it. We were all qualified terminal controllers before we went but we picked up GCA qualifications there as well and at least some of us qualified as final controllers at our bases when we went back.
---
Comments by Bruce Wellman
In the fall of 1966, some 22 Air Traffic Control Officers were selected to attend the Royal Air Force Radar and Ground Controlled Approach Course at the RAF ATC School, RAF Station Shawbury, United Kingdom. This course gave the officers an excellent grounding in Approach Control and Precision Radar duties. Many of them still carry memories of "Black Truck, Red Truck," and the Vampires and Bulldog aircraft that were controlled or at least kept from taking part in an impromptu air show.
---
Return to Photo Index
---
About This Page
Updated: February 20, 2005
---