Grostenquin France
"Ma Hemerings" - Assorted Sources
---
The RCAF arrived at Grostenquin in October of 1952. Considered ready for occupation by the French, it was far from being ready by Canadian standards and life on the continent by these intrepid aviators was far from easy. The RCAF's original concept for overseas service were tours of one year unaccompanied for married personnel and two years for single personnel. This changed by late 1953, when it was realized that many families were going to Europe with their spouses. As a result of the one and even the two year tour at Grostenquin, the majority of the RCAF personnel did not have any mode of personal transportation. The motorcycle or moped would become a way of life in 1953 and 1954. For those that did not have ready transportation, the nearby village of Hemering took on the role of serving as a "local watering hole". A small local pub became affectionately known as "Ma Hemerings" and many RCAF personnel were initiated to French alcoholic specialties in this establishment.
---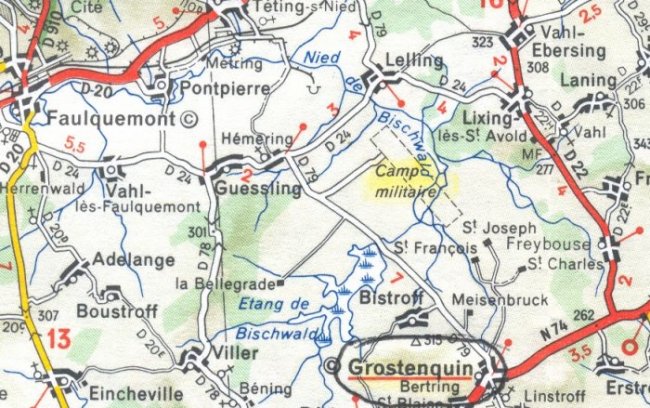 Map showing the proximity of Hemering to RCAF Station Grostenquin

---
Click on the description text to view the photograph.
---
---
This page is located at
http://www.grostenquin.org/gtmisc/gtmisc19.html
Updated: September 26, 2004
---