Radar Stations on the West Coast
Detail Pertaining to the Installation
of Coastal Defences - Assorted Sources
---
Extract from 9 RD Spider Island Daily Dairy
23 Mar 43
Men working on gun pits.
27 Nov 43
Sgt Pentland of the guard has finished has almost finished a very strong gun pit on the hill at the operations site.
12 Feb 44
Lt Meyers, RCA arrived to locate site for 75 mm gun which it is proposed to be installed here.
26 Mar 44
Rifles were issued to all airmen who had not been issued one to date.
---
Extract from 10 RD Cape Scott Daily Dairy
26 Jul 43
Two 12-gauge shot guns received.
---
Extract from 11 RD Ferrer Point Daily Dairy
15 Feb 44
At 1430 hours Lt G Benjamin of 33 RD, AA Coy. Attached to RCAF Stn Tofino, arrived this detachment to choose a suitable site for the laying of a 75 mm gun.
16 Feb 44
Lt G Benjamin departed for Tofino.
---
Extract from 13 RD Amphitrite Point Daily Dairy
18 May 43
Work parties still continue to string barbed wire, make gun emplacements, etc around the Operational building.
14 Sep 43
The security of the operational point was gone into, and the wire put up by former personnel is considered to be of nil value as it is too far away, not complete, and not covered by rifle or MG fire. A new wire enclosure is to be made just out of the hand grenade distance and on higher ground, so as to be easily covered from one of the two MG posts to be erected to make full use of the old Anson turret we have had shipped to us.
22 Sep 43
F/Sgt Jones, of Security Guard, Ucluelet, came down and looked over the wire at the point, and promises to return with more wire and men and help us to put up a better fence around the operational building. The Armourer Sergeant from Ucluelet came down and checked rifles; they have now been turned over to this detachment. In other words they are now on our charge.
23 Sep 43
Work was started at the operational point in regards to the wire enclosure.
1 Oct 43
The range was in use again from 10:00 to 12:00 hrs., both rifle and LMG (Lewis Machine Gun) were used. The wiring around the operational point is going on well now, some 5 strands all the way around.
6 Jun 44
Gun mounts for twin air machine guns were assembled.
22 Jun 44
Sgt Frith, Sgt Lemna and Cpl Battram used a block and tackle to lower the old aerial from the top of the Gantry. It is planned to use top of gantry for a mounted twin air Lewis for station defence.
---
Extract from 26 RD Langara Island
24 Apr 43
Gun pits were sited near Operations for twin-fire Lewis Guns, so chosen as to give complete coverage of coastal approaches.
2 Aug 43
6 Aug 43
At 2330 hours a guard reported sub 300 yards off shore at dock. No 1 alert raised immediately and visual plot passed to Filter Room. All gun pits were manned and road completely patrolled. Secret documents prepared for rapid destruction, demolition prepared.
8 Aug 43
Naval boat SY16 arrived at 0900 hours with a 6 pound gun, 3 field telephones and a party of 6 Army men including one Sgt to bolster station defences. Phones, spot light and gun were set up.
9 Aug 43
Several test shots fired from the 6 pound field piece and found satisfactory.
11 Aug 43
At night spotlight used in conjunction with 6 pound gun was tested out and found to be of very little use, will not focus to a small enough beam to cover any distance. Work done on defence system.
19 Aug 43
At 2300 hours word was received from 4 Group submarine sighted approx 100 miles NE of Langara heading south.
2 Oct 43
Navy patrol FY16 arrived at 1100 hrs to remove army personnel and gun. All complete at 1400 hrs despite rough seas. Standing lookout placed at Dock to replace army personnel.
21 Feb 44
F/L Walden selected a gun site for a gun it is intended to send in here.
13 Jul 44
S/L Foy inspected the station generally and examined the facilities for bringing in a 75 mm gun.
31 Jul 44
MV Nimpkish arrived from Henslung Bay at 1000 hrs with two tons of 75 mm ammunition.
18 Jul 45
Minesweeper arrived at 0700 hrs. Mine on beach destroyed.
---
Extract from 27 RD Marble Island Daily Dairy
9 Jun 43
Flying Officer Jones advised on the construction of gun-pits and other defence projects to be undertaken and on his departure work was started immediately.
1 Jul 43
Work is progressing on the Gun-pits in spite of difficulties in getting sand and transporting the bags to the site.
8 Jul 43
Normal routine. Sergeant O'Brien continued work on the gun-pits. Rain still falling.
4 Aug 43
Work continuing on gun pits.
11 Aug 43
A number of hand grenades were received and instructions for fusing were demonstrated by Sgt Dunkley to personnel on the Detachment.
9 Feb 44
F/O Jones the DAPM from Alliford and Lieutenant Gelling of the RCA arrived to investigate a site for the installation of a field piece.
10 Feb 44
The two visiting Officers selected a site for the installation of a field gun.
---
Extract from 28 RD Cape St. James Daily Dairy
8 Sep 43
Rifles and ammunition issued to all personnel.
1 Feb 44
Distributor parts and mail received from the boat as well as a few other items of freight (Lewis Guns, etc).
22 March 44
Instruction on the use of ground arms commenced. Everyone on the station will receive instructions from Senior NCO i/c SP re Anti-gas equipment, lewis gun, sten gun, rifle, grenades etc.
5 Apr 44
A meeting was held at 3.30 pm to discuss and organize a station defence program. It was decided to form 4 teams with appoximately 13 men on each. Ground defence schemes will be carried out in the near future and in the meantime the teams will be organized to dig gun pits around the island at strategic points.
11 Apr 44
DAPM and Lt Detweller came to sight 75 mm field piece proposed for this detachment.
25 Apr 44
Two machine gun pits under way.
27 Apr 44
Four machine gun pits nearing completion.
7 May 44
Demonstration of Lewis Gun by Sgt Rowett held at 1530 hrs. Bursts were fired from South East corner of island into ocean. Handling of gun was described by Sgt Rowett and several men were allowed to shoot a few bursts (under supervision) so as to acquaint themselves with gun.
11 May 44
P/O Parker and senior NCOs were instructed on the use and operation of a Sten Carbine Gun. Practise shots were fired on the range under supervision of Sgt Rowett, the defence NCO of this detachment.


Lewis gun cartoon. Extract from the Peat Pile News - June 1944.
8 Jul 44
Twin Lewis anti aircraft guns installed on a rack in Service Police hut so as to be available for anti aircraft mount on SE corner of island.
2 Jan 45
3 RD request all serial numbers of machine guns held this unit, will forward by letter next boat.
---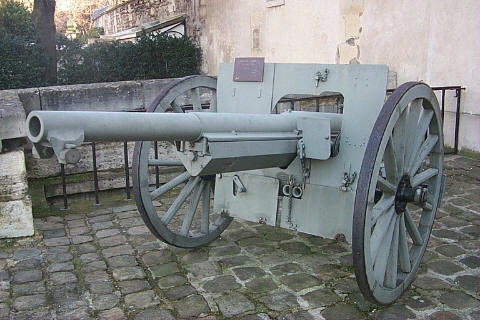 Example of a 75mm field gun
---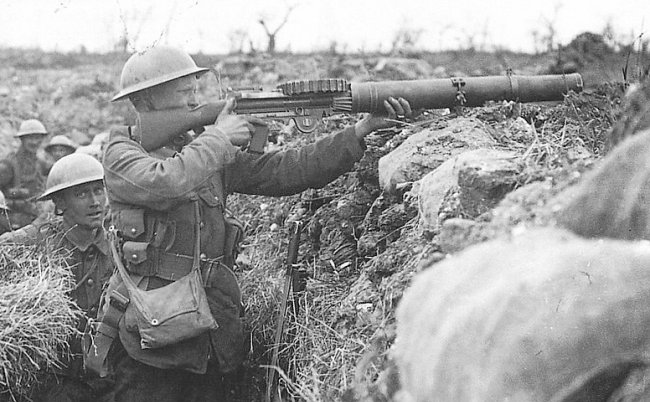 Example of a Lewis Machine Gun
The Lewis Gun was a pre-WWI era British machine gun that continued to see service all the way through WWII. It is visually distinctive for its very wide diameter cooling shroud around the barrel, and for its top mounted drum magazines, which came in 50 and 90 round sizes. It was invented by an American army officer in 1911 but was never adopted by that country. It was designed with an aluminium barrel casing to use the muzzle blast to draw air into the gun and cool down the internal mechanism. It could fire 550 .303 rounds per minute. The gun weighed only about half as much as the monumental Vickers machine gun and was primarily chosen because it could be carried and used by a single soldier.
---
Click on the description text to view the photograph.
---
Photographic Credits
All photos are used with permission.
---
---
---
This page is located at
http://www.pinetreeline.org/rds/detail/rds11-2a.html
Updated: August 24, 2004
---