1 Air Division
Memories of Rabat, French Morocco - Assorted Sources
---
Memories of Rabat, French Morocco
Don Norrie
Soon after the squadrons were in place in the Air Division, it became apparent that an air-to-air live firing range was needed in order to keep the F-86 pilots qualified in air-to-air firing. Some air-ground firing parctice was initially carried out at the USAF base located at Furstenfeldbruck in Germany.
In late 1953 an old French air base which was located in Rabat Sale, French Morrocco was freely given to the RCAF by the French government for squadron use. Flight Lieutenant Omer Levesque worked at Air Division HQ in Metz. It is recorded that while at Metz, he was instrumental in securing the French base at Rabat for the RCAF as a gunnery base. The deal was cooked up over a bottle of beer. The French officer promised that if Levesque got him a check-out on the Canadair Sabre, he would see that a deal for Rabat was taken care of.
There is absolutely NO WAY to determine whether there is any relation to the following detail, but it does tend to leave you wondering. - The following is an extract from official 2 Wing Historical Reports.
24 Sep 53
Commander Lacoole of the French Air Force made his first trip in an F-86 with 421 Squadron.
Rabat would serve as a much-liked place to get away for some sun, and of course live firing for the aircrew. A small part of it was in use by the French Air Force, (which as an aside, was flying German Junkers 52 bombers, WW II Heinkel bombers and Mistrels (Vampire) fighters - a veritable flying circus) so the RCAF contracted use of this field.
There were many detachments from 2 Wing Grostenquin to French Morocco in North Africa. Rabat was, between 1954 and 1956, the main weapons training range for Air Division squadrons. In 1954, the three squadrons from 2 Wing Grostenquin each made two trips to Rabat - each trip lasting two weeks duration. By 1955, the squadrons were limited to one visit to Rabat per year - but this was of three weeks duration, and in 1956 the annual gunnery deployment had been extended to four weeks. It must be remembered that there were 12 F-86 squadrons in the Air Division at the height of the Cold War and all of these squadrons spent time in Rabat on gunnery exercises. The squadrons spent their time perfecting their skills by firing on a drogue towed by another F-86 over the Med. Deployments at Rabat by F-86 Sabre aircraft from 2 Wing were as follows:
For convenience, and to provide an overall greater amount of material, we have merged available detail from both 1 Wing Marville and 2 Wing Grostenquin in this section.
Squadron

1954

1955

1956

416 (F) Squadron

Apr 1954,
Sep 1954

Feb-Mar 1955

Jun 1956

421 (F) Squadron

Mar-Apr 1954,
Jul-Aug 1954

Apr 1955

Jan 1956

430 (F) Squadron

Apr-May 1954,
Aug-Sep 1954

Unknown 1955

Mar 1956
The RCAF eventually found that although flying facilities were adequate, it was rather hazardous for Canadians to mix with the Moroccans in Rabat and Casablanca. An extract from 2 Wing Historical Report dated 11 Aug 54 read as follows: "Information received from OC Detachment at Rabat Sale, Morocco that 41182 LAC James Alfred Taylor, M&W Tech with 421 (F) Squadron suffered a severe accident. Details of accident are not known but it is rumoured that he lost the sight of his eye in the accident." A subsequent unconfirmed report indicated that one of our 2 Wing pilots was found almost beaten to death by a band of locals in 1956. It was almost inevitable that a more serious incident would occur, sooner or later.
Negotiations with the German and Italian Air Forces commenced in 1956 and it was decided that the RCAF would pay 25% of the cost to prepare the Italian base at Decimomannu, Sardinia (about 10 miles NW of Cagliari) for air-to-air gunnery. The range at Decimommanu opened in July 1957 with the arrival of 421 (F) Squadron from 2 Wing Grostenquin.
---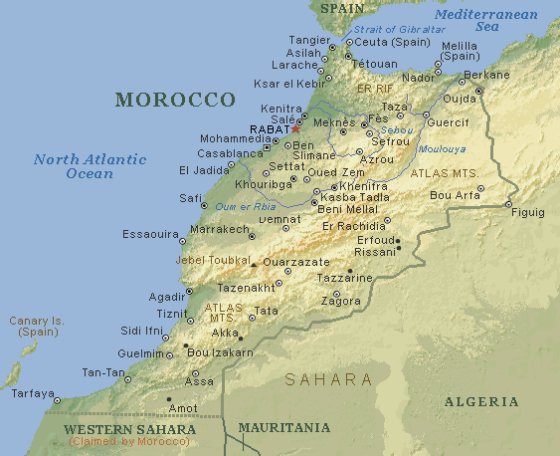 Map of Morocco
---
Click on the description text to view the historical detail.
---
Click on the description text to view the photograph.
---
---
This page is located at
http://www.grostenquin.org/misc/gtmisc-5.html
Updated: June 19, 2005
---